Hanging Art In Earthquake Country
Oct 29, 2019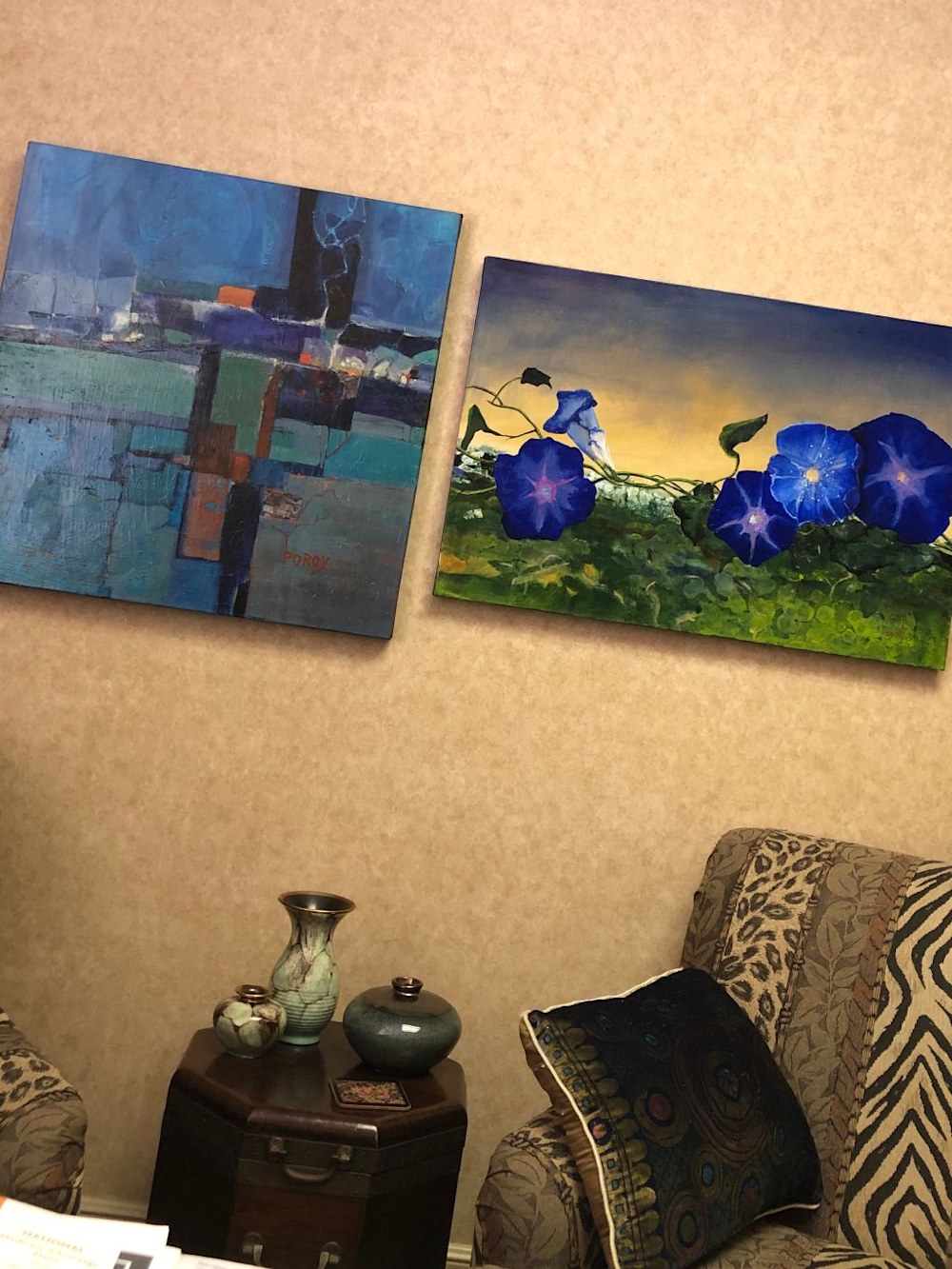 A recent earthquake in our own backyard got me thinking about earthquake preparedness.Not the usual disaster plans because we already have "go bags" for the dog, the cats and the humans. Earthquake preparedness for your art collection is another thing. On a serious note, my advice is for those little 'quakes. For the Big One you need insurance and documentation of your art and other valuables.If the wall goes down you won't be thinking about crooked pictures.
I often find myself straightening pictures. Here in California when you get everything the way you want it and mysteriously the next day everything is wonky again. Here's how to avoid that particular frustration...
Heavy paintings need proper hangers and cables that can handle the poundage.Bouncing off the wall will damage the frame and the art; it can wreak considerable damage to anything it bounces off. You can be seriously injured...the edge of a falling artwork creates a classic "blunt object" for the CSI team. I seriously recommend using unbreakable alternatives to glass, and modern products boast durability and UV protection. You probably have already anchored your bookcases and cabinets to the wall. (No? Stop right now and do it!) I also take an extra length of wire and use it to fasten the hanging wire to the hanger to reduce the chance of things popping off when things start to move.
Go to the hardware store and ask for museum or earthquake putty. I like a product called Quake Hold. You pull a bit off and it will remind you of taffy. Roll it into a ball and put it under the base of any 3d art you have, and along the bottom edge of any painting you like to display casually on a shelf or mantle. If you put a large painting on a mantle attach a wire to it as a safety net. It still looks like you casually leaned it against the wall, but it will catch on the wire instead of falling off.( If you do NOT live with earthquakes, these tips are also useful when you live with cats.)
Mostly you are not facing physical damage as much as aggravation. There's an extra bit of aggravation if you are just a tiny bit OCD. You may be if you constantly find yourself adjusting things (or alphabetizing your spices).Did you watch Monk on TV and find yourself very sympathetic with the main character? Then you will find relief in hanging things once, checking the level and locking them down.
A single large painting is the easiest, just consider using 2 hangers instead of one for stability. Use your level, but if it is supposed to be level but doesn't feel right then your floor, doors and windows could be the problem.Particularly in older houses things are not always as expected. An uneven floor becomes an issue when a painting is above a large piece of furniture like a cabinet or couch. You will be happier with the look if you align with those object regardless of what the level says. If you hang close to an uneven window or door you'd best adjust to them...you are not likely to rebuild you home and you don't want to look like a funhouse mirror either.
Most of us, particularly avid collectors, have started doing what is called a salon hang or a gallery wall. This is an arrangement of a number of paintings that share color or theme and are grouped into appealing patterns. They can be various sizes and shapes and when done well the hanging plan can be quite complicated.Add an earthquake and they can all tilt in different directions...not the effect you were going for. This is how you stop the problem: get out your level and your earthquake putty. Put them back in place using your level and your assessment of uneven architectural features. When the look right, roll tiny balls of earthquake putty and slip then under the lower corner of each piece and press it firmly into the wall. You can reposition them to make precise corrections and the putty should take care of business for at least 2 years.
That should be good enough because you'll want to rearrange things as you add to your collection. Enjoy!